2.2.1.1043
Download Malwarebytes Anti-Malware free of charge to detect and eliminate viruses, spyware, trojans... Malwarebytes Anti-Malware includes FileASSASSIN

Analyze and eliminate malware
Your computer is exposed to continuous attacks by all types of malware. When you access the Internet, read your email, install software... There are many situations in which you can become the victim of their attacks, thus it is advisable to have a program like Malwarebytes Anti-Malware capable of detecting these dangers and getting rid of them.
The Malwarebytes Anti-Malware application analyzes your computer in search of viruses, worms, trojans, rootkits, dialers or spyware and eliminates them if detected.
The Malwarebytes technology takes fighting malware a step further.
Features
Detect and eliminate malware from your PC.
3 types of analyses available: quick, detailed and Flash memory analysis.
Heuristic and periodical updates of the database to include the latest known viruses.
Integrates the tool into the Windows Explorer context menu.
It has a pay-to-use version that adds additional features like a real-time protection module, zero day attack prevention both for the computer as well as when you browse the Internet or program analyses among others.
Once Malwarebytes Anti-Malware has detected a threat, you'll be able to eliminate it directly, ignore it or save a register with the information generated.
Need external solutions?
In those cases in which a suspicious file resists being eliminated from the system, the developers have added to the software the FileASSASSIN tool. This small tool is capable of unblocking these files and removing them completely, a solution for extreme cases in those that malware isn't willing to leave your PC.
The perfect add-on for your antivirus
Malwarebytes Anti-Malware is perfect to be combined with a traditional antivirus. While many applications dedicated to computer security are incompatible with each other, Malwarebytes Anti-Malware can work together with your usual antivirus application, becoming the perfect accessory for your security.
You can now download Malwarebytes Anti-Malware for free to keep your computer protected against a large amount of threats.
Latest changes
Scanning options from the contextual menu activated by default.
Improved user experience regarding the end of the trial period.
Adds an additional verification to make sure that the subscription is up to date as soon as the license renewal is processed.
Solves minor problems.
Antony Peel at Google +
Images Malwarebytes Anti-Malware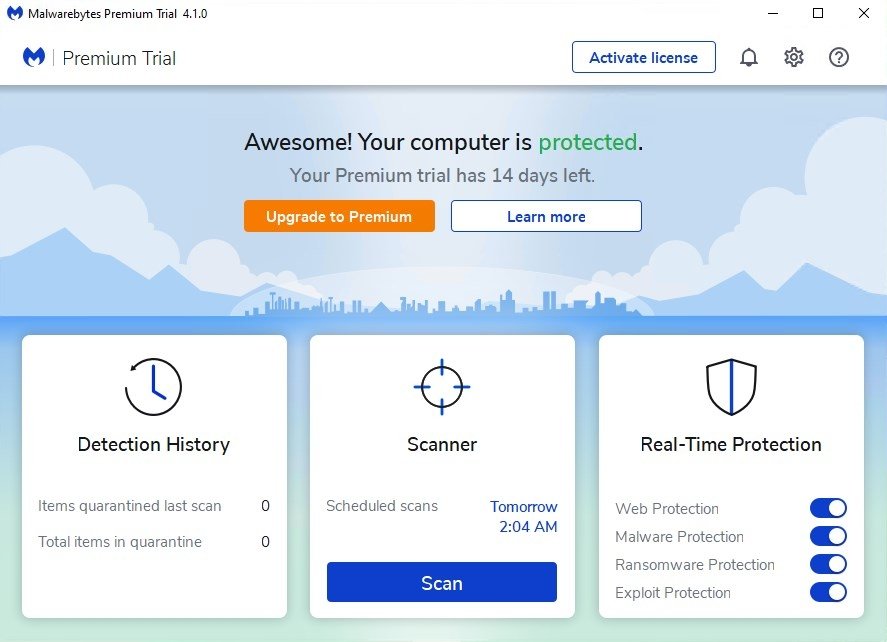 Protection against malicious applications